Photos by Hunter Ferner.

Alec Schumacker and audience.

Photos by Hunter Ferner.

Photos by Hunter Ferner.

Photos by Hunter Ferner.

Photos by Hunter Ferner.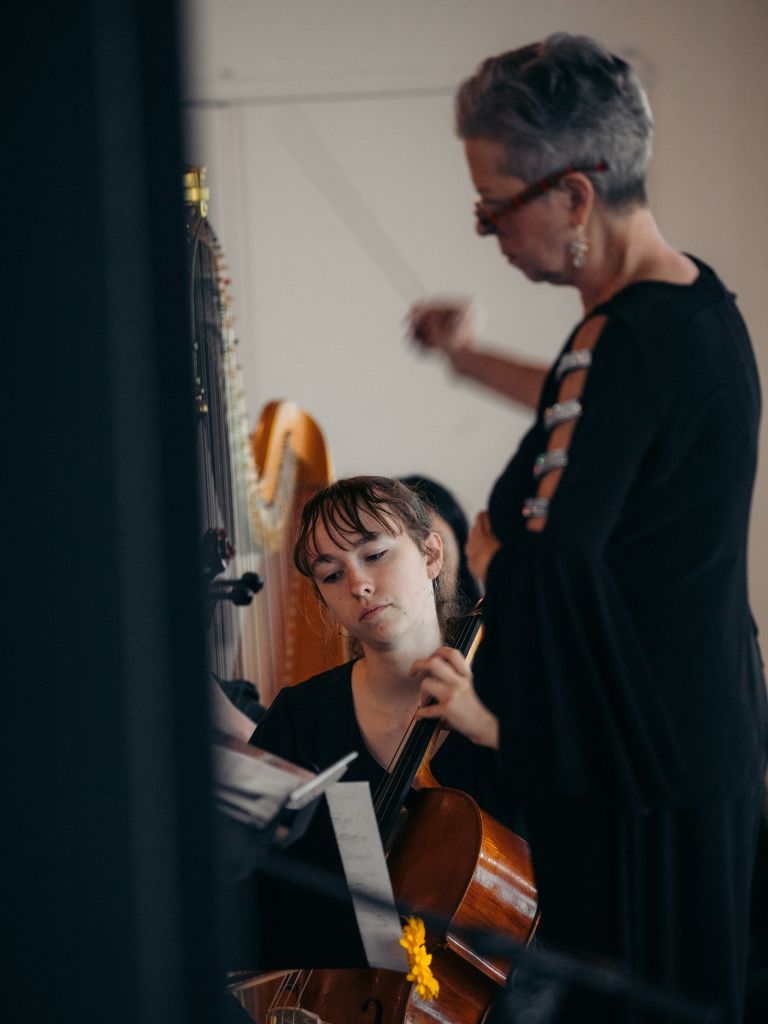 Teresa McCreary and orchestra.
On Sunday, April 23, members of the HPU International Vocal Ensemble, Chorale, and Symphony Orchestra gave powerful performances at this year's spring concert, From Land to Sea: Music of the Pacific. Directed by Teresa McCreary, Ph.D., and Alec Schumacker, DMA, the concert was comprised of 13 musical arrangements with influence from Hawaiian, Mexican, Korean, Malaysian, and Japanese cultures. The pieces took the audience on a journey across the various corners of the Pacific and also included original pieces arranged and composed by the directors.
The show began with the HPU International Vocal Ensemble encircling the audience and giving a beautiful rendition of "Kilakila Haleakalā." After a warm round of applause from the audience, Dean of the College of Liberal Arts Allison Gough, Ph.D., formally introduced the International Vocal Ensemble and Chorale.
Concert attendees were treated to other vocal performances from across the Pacific, with some conducted by students as a part of their capstone experience. HPU graduating senior Kiersten Caldwell arranged and conducted "Cien Años," which featured student solo performances from Isabella Filipone, Simone Duran-Nyers, and Cassidy Gilroy. The ensemble's performance of "Aloha 'Oe" featured student conductor Kyle de Leon and soprano performance from Lili Younce.
The concert later showcased performances from HPU's Symphony Orchestra that featured a sea shanty, string performance, and an original orchestral piece by HPU's own McCreary with video elements.
McCreary's piece, "Nā Koholā Kuapi'o (The Humpback Whale)," took the audience beneath the ocean's surface where the music resembled the grace and dance of the majestic humpback whale. The orchestra's performance featured tunes of sea shanties, Polynesian percussion, hula, and Celtic dance. The performance was accompanied by a video depicting the whales themselves.
"Composing original music is a labor of love," says McCreary about her experience composing this piece. "This journey was two years long, sparked by a pandemic that kept me at home for long periods of time along with the grief of losing my mother. A fine choir director, organist, and pianist herself, she was my muse throughout the process."
The concert concluded with a great round of applause for the student performers. To view the video of the concert, click here. To learn more about HPU's music programs and scholarship opportunities, visit the Arts at HPU website.