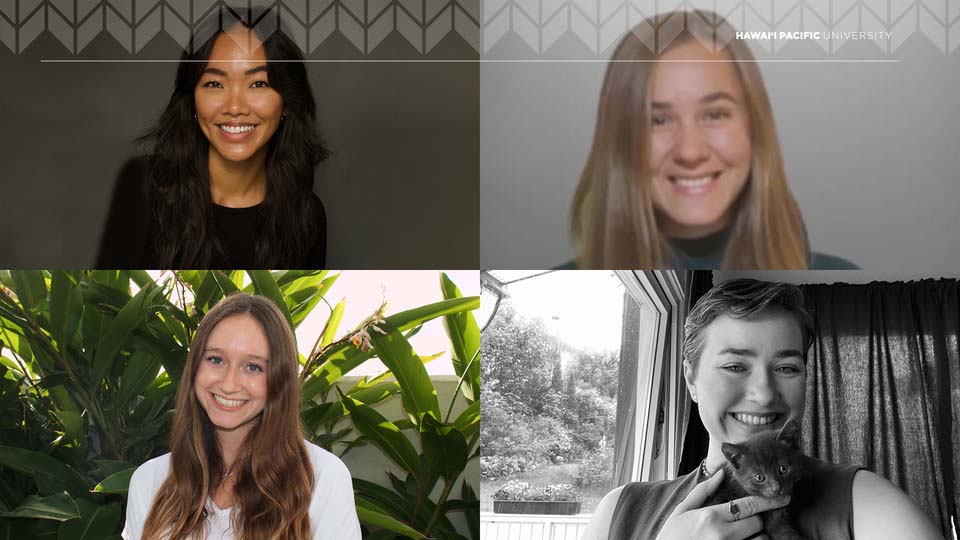 Pictured from left to right: top row-Angeleyh Pasco, Lara Wuerhl; bottom row-Emma Williams, Minken Austad.
Congratulations to the following HPU students! 
BEST ADAPTED SCRIPTS  
1st Place: Angeleyh Pasco for Phased (based on a dramatic monologue by the author)  
A very sophisticated and visually involving presentation of depression. We are impressed with the clarity and purpose of how this moves and sustains interest, even while dwelling on and ruminating through the 15 phases of depression. To be 3rd in the que for the Suicide Help Line is such a great concluding touch, to escape any false or easy hope.  
2nd Place: Emma Williams for To Seek a Hidden Joy (based on "A Haunted House" by Virginia Woolf)  
An engaging adaptation of Woolf's Haunted House with thoughtful character development of the ghosts and loving spirits. Through successful dramatic tension and clever dialogue, the explicit theme is neatly woven into a tight and cohesive script.  
 
BEST ORIGINAL SCRIPTS  
1st Place: Minken Austad for Beautiful  
A thoughtful and provocative story, carefully crafted to share both personal introspection on inner beauty and self-esteem, along with engaging drama and insightful dialogue among hopeful friends. Though we expected the happy ending, it satisfies with rekindled promise.  
2nd Place: Lara Wuehrl for Tick Tock Tick Tick.  
An imaginative narrative, skillfully developed into a clear plotline with keen imagery and tangible dramatic tension; this script is creative and clever, complete with detailed production instruction.  
 
Comments are from the judges, who are either current or former members of the Department of English and Applied Linguistics involved in drama and scriptwriting. This year's winners were selected from 22 submissions presented to the judges anonymously. The contest is open all HPU students. The contest awards ($808 in scholarships) are provided by the Mark David Bauer Fund. For additional information on the HPU Short Script Contest, contact Professor of English Mark Tjarks at mtjarks@hpu.edu or (808) 566-2445.