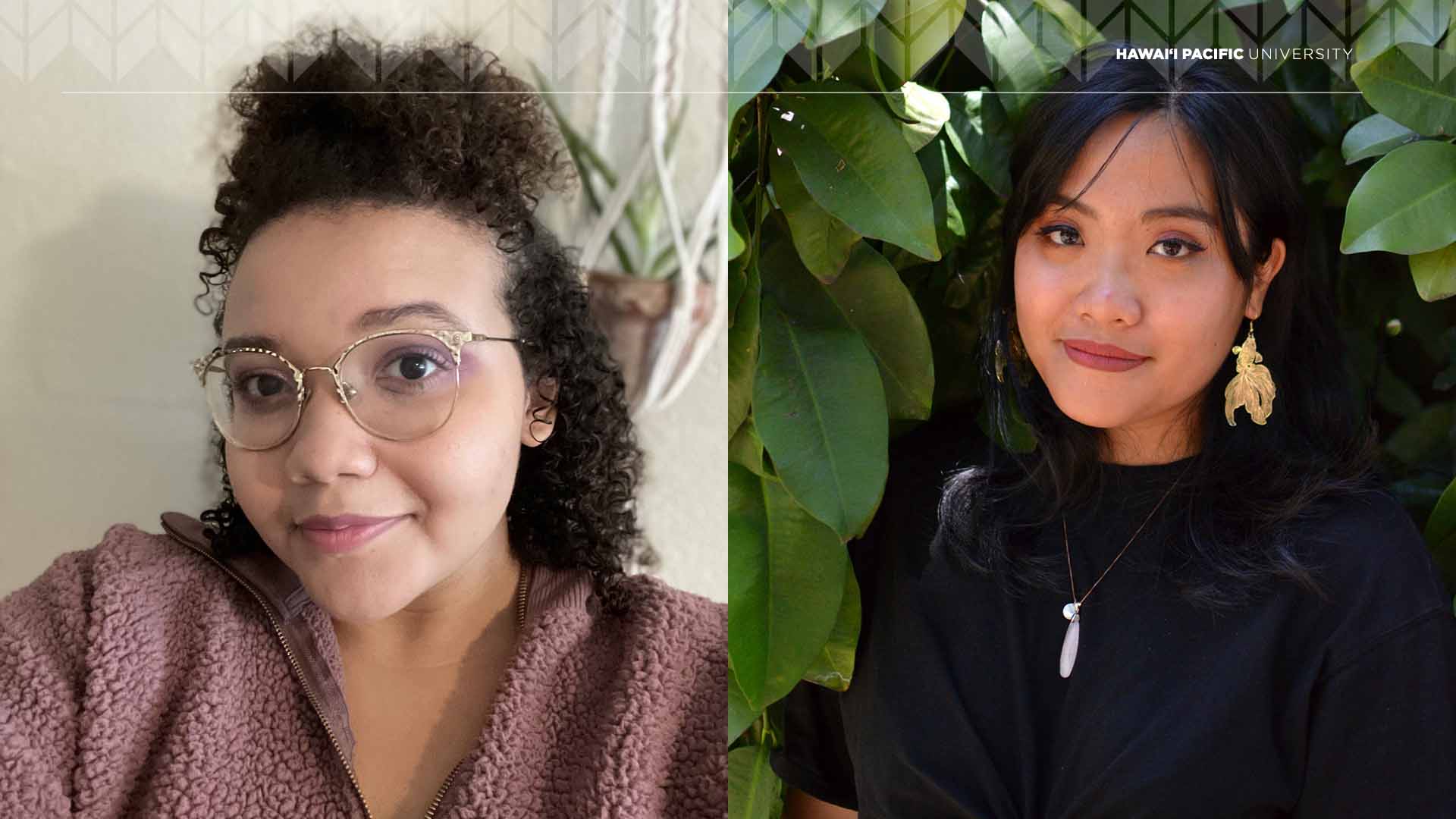 Pictured from left to right; Holly Tarver and Janelle Ann Mateo.
Congratulations to the following HPU students! The winners were chosen by award-winning author Allison Amend.  
Winner of the Mark David Bauer Award for Fiction: 
"He Who Eats Sand" by Holly Tarver 
Comments from Allison Amend: "He Who Eats Sand" reminds us that judgment is a matter of perspective, and that putting ourselves in someone else's shoes (even if that someone is a deep-sea sand monster) can help us view our own world more clearly. 
Runners up: 
"Hazelnut" by Brigid O'Brien, "How to Ride a Bike Without the Support Wheels" by Minken Angelica Austad 
 
Winner of the Andrew Opitz Award for Nonfiction: 
"Those Who Walk Barefoot" by Janelle Ann Mateo 
Comments from Allison Amend: "Those Who Walk Barefoot" traces with fierce pride the evolution of the author's understanding of their Filipino American heritage in a way that is both personal and universal. 
Runners up: 
"On Depression" by Aspen Pawlowski, "Girl Who Cried Monkey" by Rozzy Mullen 
 
Winner of the James M. Vaughan Award for Poetry: 
"Phantom Promise" by Janelle Ann Mateo 
Comments from Allison Amend: "Phantom Promise" is a lovely elegy to youthful love, with the moon as a vivid and insistent reminder of the permanence of what we pledge. 
Runners up: "The Sky Is" by Kristina Bechthold, "My Body Tells My Story" by Alana Espinosa 
Allison Amend, a Chicago native, graduated from Stanford University and the Iowa Writers' Workshop. She is the author of the IPPY award-winning short story collection Things That Pass for Love and the novels A Nearly Perfect Copy and Stations West, which was a finalist for the 2011 Sami Rohr Prize for Jewish Literature and the Oklahoma Book Award. Her most recent book, Enchanted Islands, was on the longlist for the International Dublin Award. Amend teaches creative writing at Lehman College, CUNY, in New York City, where she has visited every museum, all 115 of them.