HPU business students toured the Pacific Club in Honolulu.

Students tour the Pacific Club wine cellar.
On March 16, HPU business students from the food and beverage course had the opportunity to visit the Pacific Club. The students were accompanied by HPU Program Manager and Visiting Assistant Professor of Tourism and Hospitality Management Rojan Baniya and Vinka Azaria Boedima.
The Pacific Club is one of the most exclusive business clubs in Honolulu, so the students got the chance to get an exclusive sneak peek of how the club operates.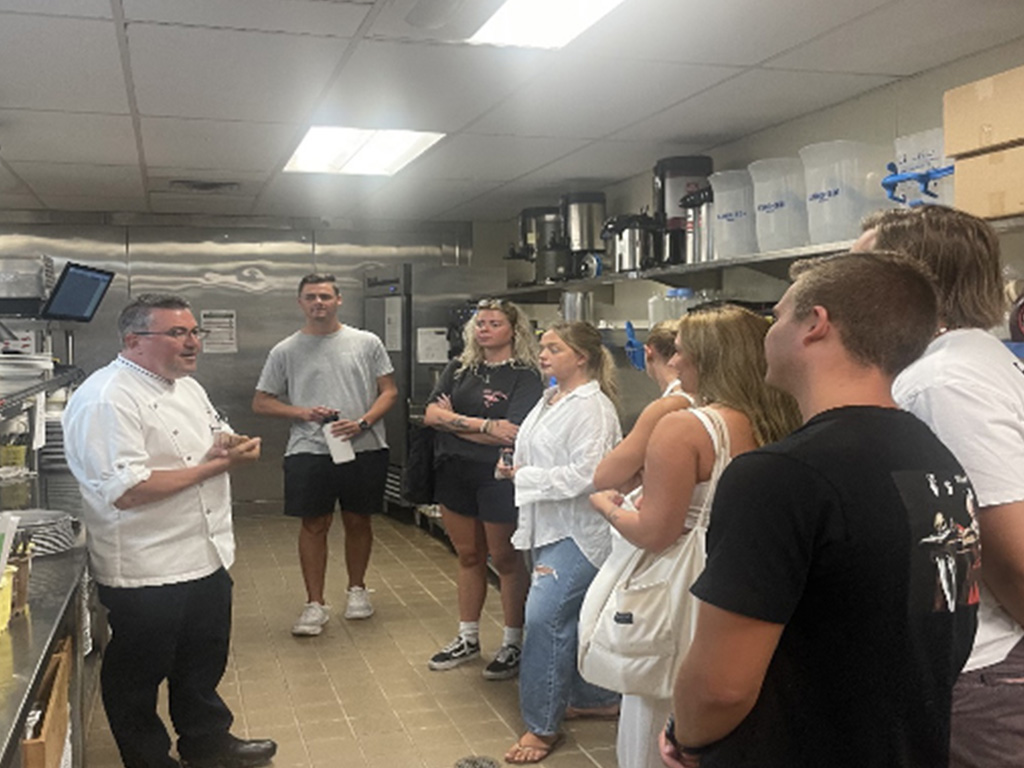 HPU business students met with Pacific Club Executive Chef Eric Leterc.
The tour was led by Pacific Club Assistant General Manager, Food and Beverage Director Amy Dempsy and Assistant Food and Beverage Director Nicole Gibson. Students were also able to meet and have a question session with Pacific Club General Manager Michael Ako.
The tour started by going to the kitchen and seeing how Executive Chef Eric Leterc manages and operates three restaurants with just one kitchen. The students were also able to see the wine cellar, which includes a variety of wine selections from all over the world. Students learned that the Pacific Club does everything in-house, including laundry and dishes.
After finishing the tour of the back of the house, students toured the club facilities that included a tennis court, swimming pool, and gym. Students had a great time touring the entire property and seeing the real-life operations of a club.
One of the highlights of the tour was interaction with Michael Ako, who had clear messages for students interested in the hotel tourism management (HTM) career:
Dress for the occasion because people are looking at you
Whenever you go for a job interview, do your research well ahead to know about the company, its mission, and the people in the company
When you are a management trainee in big hotels like Marriot, they make you go through all the departments, which prepare you for a career
In hospitality, along with education, you work your way through the experience
HPU students also learned from Dempsy that you need to have a passion for getting into the HTM industry. She noted that this is her passion during the past 20 years of working in the club business.
To learn more about the HPU Tourism and Hospitality Management program in the College of Business click here.