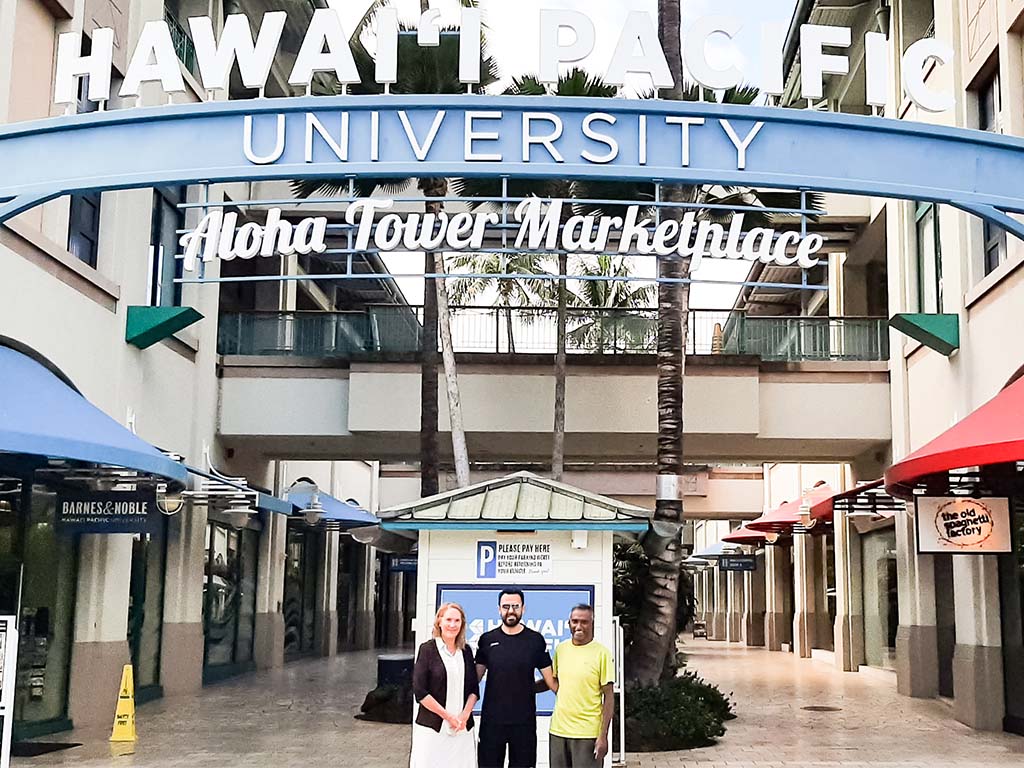 University of Auckland Professor David Sundaram (right) and Senior Lecturer Gabrielle Peko (left) join HPU Assistant Professor Ghazwan Hassna (center) at HPU's Aloha Tower Marketplace.
HPU College of Business recently hosted a productive and enjoyable research visit with two renowned academics from the University of Auckland: Professor David Sundaram, Ph.D., and Senior Lecturer Gabrielle Peko, Ph.D. The team's visit, hosted by HPU Program Chair of Business Analytics and Information Security Ghazwan Hassna, Ph.D., aimed to establish a long-term research collaboration that can lead to several conference papers, journal articles, and research projects.
Under the hospitality of Hassna, the team was able to delve into interesting research topics related to the role of technology in the sustainable transformation of emerging adults. During their stay, the team also explored several interesting future research topics related to the rapidly growing phenomena of the Metaverse. 
The Metaverse continuum refers to the virtual environment that is created through the integration of various advanced digital technologies such as virtual reality (VR), augmented reality (AR), extended reality (XR), artificial intelligence (AI), cloud computing, quantum computing, blockchain, advanced sensors, 5G, the IoT, digital twins, and sophisticated modelling and simulation. When combined, these breakthrough technologies create incredibly capable virtual spaces that offer highly immersive, persistent, and three-dimensional experiences where the tangible meets the intangible, the real meets the virtual, and the genuine meets the simulated.
Just as the widespread adoption of the Internet and Web 2 has revolutionized how we live and work, the Metaverse has the potential to revolutionize the way we interact with technology and each other. This research collaboration is a step towards understanding and shaping this new digital frontier. With the expertise of Sundaram, Peko, and Hassna, the College of Business at HPU is poised to make significant contributions to the academic and professional community and to advance our understanding of the Metaverse. The collaboration between Hassna and the two academics resulted in plans for several projects, including working on conference papers and journal articles, rejuvenating a mini-track at the Hawaii International Conference on System Sciences, and summer research projects focused on the Metaverse.
Throughout their stay, the group not only made significant strides in their research efforts but also took the opportunity to explore the beautiful island of Hawaii. They went on hiking and snorkeling excursions, took dips in the crystal-clear waters, and enjoyed the local cuisine.
As the visit ended, the collaboration between Hassna and the two scholars from Auckland University is set to continue, with plans for several conference papers, journal articles, HICSS mini tracks, and summer projects centered on the Metaverse. The College of Business is proud of the results of this partnership and looks forward to continued collaboration and the advancement of knowledge in this exciting and rapidly evolving field.
Hassna is an Assistant Professor and the Program Chair of the Business Analytics and Information Security at the College of Business of Hawaii Pacific University. He is currently interested in the research areas of AI Governance, Big Data & AI Strategies and Applications, Blockchain Strategies and Applications, Digital Transformation, Crowdfunding and Internet Finance, Smart Governments, and the Metaverse. He has several publications in leading conferences and peer-reviewed academic journals. Before joining academia, Dr. Hassna had more than 6 years of experience in formulating, planning, and managing large-scale digital transformation initiatives. He worked in different geographies and for/with different prestigious international and governmental organizations. While serving as a faculty member and program chair at Hawaii Pacific University, he is still invited as a guest speaker and an international consultant by several organizations and entities worldwide. 
Sundaram is a Professor of Information Systems and Operations Management at the University of Auckland Business School. His primary research interests are in the design and implementation of adaptive systems that are flexible and evolvable and support the informational, decisional, knowledge, and collaboration needs of organizations. Related research interests that support the above include (1) adaptive organizations and supporting them through the interweaving of deliberate and emergent strategies (2) process, information, and decision modeling (2) sustainability modeling and reporting (3) ubiquitous information systems (4) enterprise systems and their implementation. 
Peko is a Senior Lecturer of Information Systems and Operations Management at the University of Auckland Business School. She has two principal, intertwined streams of research that complement and enhance each other including (1) the transformation of traditional entities/organizations/communities with rigid structures, processes, and systems into intelligent, agile, adaptive, evolvable, and sustainable entities/organizations/communities and (2) decision support, collaborative, and social systems, networks and technologies that support decision making and transformation.