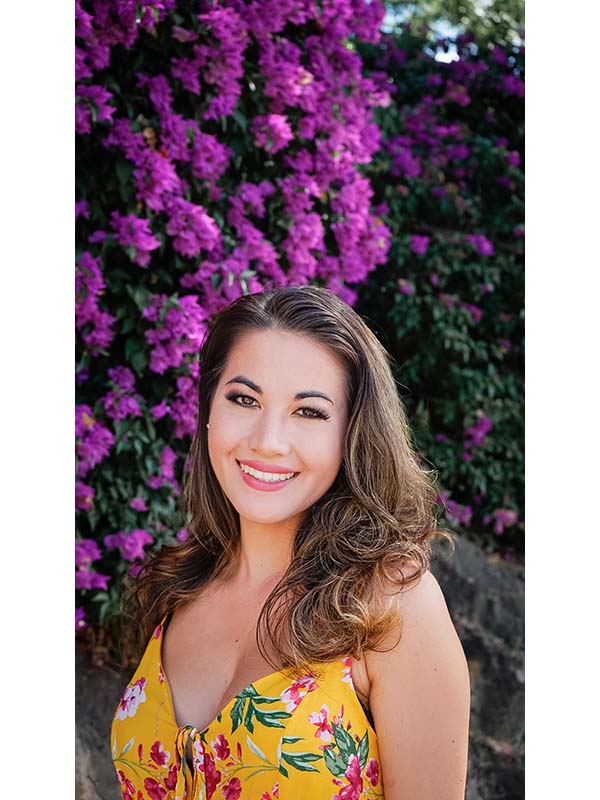 Grace Laudick.
Interning during COVID-19 presented immense challenges for college students across the country. HPU Communications major Grace Laudick confronted these challenges head-on while interning at ThinkTech Hawaii in the spring 2020 semester. With a can-do attitude, Grace was offered to host her own bi-weekly talk show called "Educating Ourselves in These Difficult Times."
This deeply engaging experience provided Grace a trusting and autonomous environment where she could expound on the knowledge and skills gained from her HPU education. Read below to learn more about Grace's internship, how her HPU education prepared her for this experience, and words of advice she has for aspiring interns.
1. Please share with us a few highlights regarding your internship with ThinkTech Hawaii?
Soon after my internship began, I was given the opportunity to host my own bi-weekly talk show on ThinkTech Hawaii called "Educating Ourselves in These Difficult Times.'' My show explored the systemic and external challenges facing educators, students, and other employees in the education sector in today's rapidly evolving world. The trust, autonomy, constructive feedback,   and one-on-one mentorship from my supervisor were some of the many highlights of my internship. I genuinely enjoyed the array of guests I was able to interview, the process of broadcast journalism preparation, and sharing the stories of the many experiences and perspectives of my guests. Getting to step into the shoes of my guests as I listened to their experiences helped me to cultivate a more nuanced worldview, and the privilege of being able to share their stories on multiple platforms was a rewarding experience.
2. How did your HPU education prepare you for this internship?
HPU places a strong emphasis on cultural understanding and becoming a global citizen. Many of the guests I interviewed, and audience members I interacted with online, came from all over the world. HPU's large population of international students and courses like intercultural communication helped me to better understand cultural differences and interact with my audience. My other communication courses, such as public speaking, mass media, and social media strategy, helped me to feel more comfortable in my speaking abilities on camera and publish content online.  
3. Were there any unique challenges you encountered during your internship? If so, how did you overcome these challenges?
I began my internship during the start of the COVID-19 pandemic, days prior to everything shutting down. Thankfully, my quick-thinking and adaptive supervisors were able to design a system where I could film some of my shows from home and created a fully virtual internship. Communicating with supervisors became more challenging, but regularly scheduled phone calls and organization-wide meetings ensured that we were trained, informed, and kept connected to each other.  
When I began my talk show, I did not have any on-camera speaking experience. Thankfully, my experience on HPU's debate team and public speaking courses instilled a sense of confidence in my speaking abilities, which translated to a quick adaptation and comfort for speaking on-camera.  
4. What did you learn from this internship that you'll be able to apply in your future career?
In the future, I aspire to pursue a career in law, focusing on either educational policymaking or juvenile advocacy and family law. I also aspire to create a non-profit organization advocating for equal access to education, high-risk youth, and victims of domestic and sexual violence. My internship has given me the skills to effectively navigate conversations with a wide array of guests from diverse backgrounds, time-manage preparation, and instill a sense of comfort and trust with my guests. Learning how to be mindful of others' stories, perspectives, and backgrounds have given me the skills to be able to approach and effectively communicate with my legal clients in the future. 
My talk show focusing on education from multiple perspectives has also allowed me to further examine the challenges facing education today and learn lessons from abroad. The stories from my guests have opened my eyes to additional opportunities for change in educational policy.  
5. What advice do you have for HPU students who are considering an internship before they graduate?
I would advise that communication students take an array of courses in mediated and non-mediated forms of communication to determine what area of the discipline best piques their interest. Next, I would recommend that students explore what type of workplace best suits their goals and interests. For example, a local boutique PR firm will have a very different work environment from a prominent corporate news broadcasting organization. Because internships can result in a job offer after graduation, I would advise that students pick an organization that they can picture themselves in potentially long-term. Even if the internship does not go as expected, I hope that each student understands the value in learning what you like and do not like. 
Because internships can be time-consuming, I also recommend that students complete internships over summer break, when courseload is minimal. Consulting the Career Development Center prior to applying for internships can also open doors to otherwise unadvertised sites or valuable networking opportunities. I had never heard of ThinkTech until I participated in the Career Development Center's Ha Na Ka Ike internship program and was referred to the site. Do not be afraid to ask for help and make the most of the resources on campus! 
6. Any last thoughts you'd like to share with the HPU Ohana?
Take charge of your education and your internship! An internship is a valuable opportunity to exercise your in-class knowledge and a perfect avenue to explore careers in what you are studying. Please make the most of your time, and don't be afraid to say yes to projects in areas you may be unfamiliar with. Education is all about learning, and that includes learning the ropes of the professional world and various skill sets. Don't be afraid to ask for help - chances are, people genuinely want you to do well and succeed!  
For more information on internships and the comprehensive services provided by the University's Career Development Center staff, go to: www.hpu.edu/cdc