HPU Bids Aloha to Third Butler Daughter with Degree in Nursing
Category: Spotlights
May 7, 2021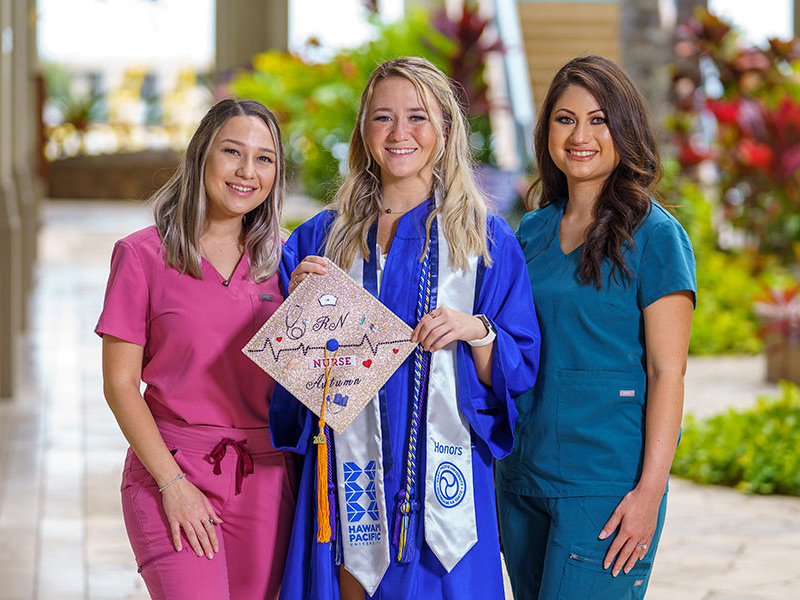 As the COVID-19 pandemic continues to bring home the chronic need for registered nurses in the workforce, an Oahu family has now given its all to make a difference. James and Angela Butler, of Kaneohe, are watching the third of their three daughters graduate with a nursing degree from Hawai'i Pacific University (HPU). Autumn Butler will join her older sisters Aubrey and Maile in serving as a nurse right here in Hawai'i.   
"We are so proud of our girls," said Angela Butler. "Our first daughter, Aubrey's experience at HPU sparked her sister Maile to enroll. That followed on to Autumn, who saw both her sisters excel at HPU and in their careers."  
Aubrey Butler currently works with veterans at Tripler Hospital, and her sister Maile Butler works at Kapiolani Medical Center for Women and Children in the Neonatal Intensive Care Unit. Autumn Butler plans to work in Pediatrics.
"HPU provided me with the education and degree I needed to get where I am today," said Maile Butler. "Receiving my acceptance letter into the nursing program was one of the best moments of my life. The program was well structured, but like any other nursing program on the island it was very competitive. I worked extremely hard to complete nursing school with straight A's, join the Sigma Theta Tau International Honor Society of Nursing, and gain every bit of experience I possibly could at HPU." 
The Butler family has a long tradition of family members graduating with degrees in nursing, and working in their respective communities. Angela Butler's grandmother was a nurse at Saint Francis Hospital in Honolulu, and James Butler's sister is a nurse in Texas.  
"There's nothing more enduring than honoring the legacy of the giants whose shoulders we stand on," said HPU Dean of the College of Health and Society Halaevalu Vakalahi. "Autumn, Maile, and Aubrey have truly honored the legacy of their parents. We are extremely proud that they are HPU nursing alums." 
HPU offers a suite of nursing degrees and a certificate program. This includes the baccalaureate degree program in nursing, the master's degree program in nursing, the post-graduate APRN certificate program, and the Doctor of Nursing Practice. 
"As a leader in nursing education in Hawai'i, HPU has produced well-prepared individuals for the workforce, to serve all of the communities in Hawai'i," Vakalahi said. "Our alumni are well represented in hospitals, clinics, and most significantly, in our communities. Our small class sizes facilitate individualized attention and mentorship, which makes HPU graduates well-prepared and sought out by local and national employers."