William Rhey Ph.D.
College of Business - Department of Business
Dean
Education:
Ph.D. Marketing, The University of Mississippi
M.B.A. Marketing, Baylor University
B.S. Business Administration, Bucknell University
 
Biography:
William L. Rhey is Dean of the College of Business at Hawaii Pacific University.  Dr. Rhey formerly held administrative and faculty positions at Florida Polytechnic University, Florida Southern College, the University of Tampa and Jacksonville University.  He has served in roles as AVP for Entrepreneurship, Business Dean, Graduate Dean and Center Director. He has been responsible for creating six centers or institutes and eight graduate programs and led the Barney Barnett School of Business (Florida Southern College) to initial AACSB accreditation.    Dr. Rhey holds a BS from Bucknell University, an MBA from Baylor University and a PhD in Marketing from The University of Mississippi.  He worked in the automobile and wholesale paper industries before his academic career and served as a staff representative for the Navigators, a Christian leadership organization at universities in Mississippi and Florida.
Rhey' s scholarly activities have been in the areas of ethics, professional sales and international marketing.  His consulting efforts have focused on the automobile industry, food service businesses, non-profit organizations and the hospitality industry.  He has been a frequent international traveler with research, consulting, service or accreditation activity in Bulgaria, India, Jamaica, China, Brazil and the United Arab Emirates.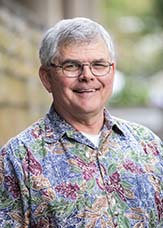 Dean
Ph.D.
  Send email
  808-544-0275
  900 Fort Street Mall, Suite 600